The Morewood Jabula is all-mountain performance redefined
Jabula
The Jabula is a different bike under braking and acceleration but the same Morewood quality throughout. This is All-Mountain performance redefined.
Features
170mm (7") rear wheel travel
170-180mm (REC. FORK)
FOX Float RP23 BV
Black/Silver or White/Black/Grey
Frame Specs
Jabula 2014 Frame Specs
44mmx49mm tapered head tube
216mm x 63mm (8.5" x 2.5") rear shock
25mm x 8mm top & bottom shock hardware
Dual concentric design (DCD) frame layout featuring a concentric lower shock and main pivot mount
Ultra narrow Split Pivot concentric rear drop-out design
142mm rear hub spacing for easy rear wheel removal
Custom Syntace X12 rear axle
Lightweight Carbon seat stay
Proprietary hydro and mechanically formed AL 6061 tubeset
92mm "press fit" Bottom Bracket
Direct mount front derailleur
Postmount 160mm rear brake tab
30.9mm seat post size (34.9mm seat clamp)
CNC machined 6082 Ali replaceable derailleur hanger
European Build
European build specification by Sports Nut GmbH
Jabula 2014 Build Specs (Air)
Rear Shock
Cane Creek Double Barrel Air, 216mm
Derailleur (F)
SRAM X.0, 2x10, Direct Mount
Brake (F)
Formula R1 180 mm, black/silver
Fork
BOS Deville, 170 mm tapered, white
Derailleur (R)
SRAM X.0 Type 2 medium cage, 10-speed, black
Brake (R)
Formula TheOne FR, FCS 180mm, black
Shifter front
SRAM TRIGGER X.9, 10-speed, black
Headset
Acros AX22, black
Wheelset
DT Swiss EX1750 Enduro Cross Light, white
Shifter rear
SRAM TRIGGER X.9, 2-speed, black
Bar
Spank Subrosa 740, 15 mm rise, white
Tires (F)
Schwalbe Hans Dampf SnakeSkin 60-559 TSC
Crank
SRAM X.0 carbon (170 mm), 2x10-speed
Stem
Spank Oozy, 60mm, white
Tires (R)
Schwalbe Hans Dampf SnakeSkin 60-559 PSC
Chainguide
-
Grips
Spank Lock On grips, black w/ black endrings
Hub (F)
DT Swiss 20mm, white
Chain
SRAM PC1051, 10-speed
Seat
Selle Royal Gobi XM, black
Hub (R)
DT Swiss 12/142mm, white
Cassette
SRAM PG-1050, 12-36t, 10-speed
Seatpost
Rock Shox Reverb 125mm, 30.9mm
Geometry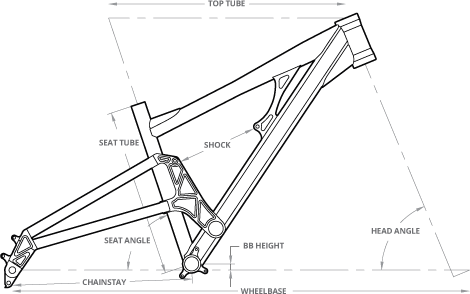 Size
Top Tube
Reach
Stack
Seat Tube
Chainstay
Wheelbase
Head Angle
Seat Angle
BB Height
Head Tube
Shock
Fork
Small
560mm
377mm
580mm
405mm
433mm
1113mm
66.5°
72.5° (70)
+10
110mm
8.5" x 2.25"
216 x 63mm
555mm x 40mm +4.0
Medium
585mm
399mm
589mm
460mm
433mm
1139mm
66.5°
72.5° (70)
+10
120mm
555mm x 40mm +4.0
Large
610mm
424mm
589mm
500mm
433mm
1164mm
66.5°
72.5° (70)
+10
120mm
555mm x 40mm +4.0
X-Large
635mm
446mm
598mm
535mm
433mm
1191mm
66.5°
72.5° (70)
+10
130mm
555mm x 40mm +4.0
Split Pivot
The Best of both worlds

To us, a single pivot means a suspension design whereby the rear wheel moves about a single, fixed pivot point. Split Pivot, with its concentric dropout pivot on the rear axle, is in essence a single pivot with the advantage of tunable braking characteristics, suspension rate and leverage ratio.

What is Split Pivot?

Split Pivot is a patented suspension system for high-performance bicycles, where traction, efficiency, maneuverability, and frame stiffness are important factors on the track and trail. The heart of the new suspension design features a concentric dropout pivot.

Together with Dave Weagle's competition proven engineering and testing process, Morewood have engineered a frame to combine the best performance traits of single pivot and long-arm linkage suspensions.

How it works

The Split Pivot concentric dropout design separates acceleration forces from braking forces in the suspension. The system reduces excess suspension reaction to acceleration forces, and at the same time reduces excess reaction to braking forces.

Braking neutrality can be tuned independently of acceleration characteristics, and suspension feel can be tuned by varying leverage ratio curves.

| | |
| --- | --- |
| A | 160mm Postmount direct rear brake tab |
| B | Replaceable derailleur hanger |
| C | Large shoulder for easy wheel loading |
| D | Maxle lite 12 x 142mm standard (12 x 135mm optional) |

| | |
| --- | --- |
| A | 2D Forged rocker |
| B | Concentric shock mount & pivot |
| C | Split Pivot patented linkage |
| D | Direct mount derailleur |
DCD
Dual Concentric Design
DCD Logo
The power of design
In keeping with our long standing company philosophy of less is more, DCD is a unique and ingenious system of securing the lower shock mount and the main pivot to the frame using a single bolt assembly. This system eliminates the need for additional bolts and frame brackets, which in turn lowers weight. A further benefit is the resultant triangulation of forces. When under compression, the forces exerted on the shock are transferred back into the frame at the main pivot, which is already the primary load bearing structure.
Downloads
Image Downloads